CYNNANT, Rhandirmwyn, Carmarthenshire 2012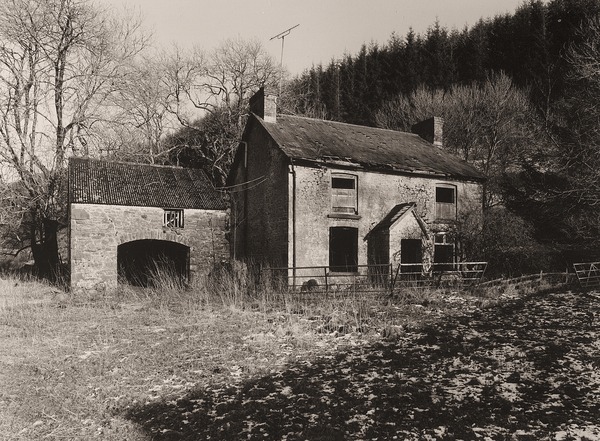 Notes on CYNNANT, Rhandirmwyn, Carmarthenshire 2012

This rural farmstead has been ruined for some years judging by the state of the property. The facade was once painted yellow, this yellow has faded and worn and in the late afternoon, on this winters day, glowed with warmth and resilience. The large windows downstairs have gone, the porch and doorway crumbling, the staircase fallen and slates have fallen off the roof. A sorry state, poor Cynnant, lays in.

South facing and the track leading from the road no more than a footpath, Cynnant seems miles from anywhere. I missed the footpath that weaved through the forestry and leads down to the house. Instead I carried on along the Forestry Commission track. There was little to no snow when I started my walk. The ground was frozen solid but going was easy. By the time I had walked through the forestry and by my calculations (I knew I'd somehow missed the proper footpath) by the time I was parallel with the house I was traipsing through six inches of snow. Animal tracks were abundant, the only other tracks, looking behind me, were mine. I slid down through the forestry and came, almost tumbling, alongside the stream, the Cynnant Fawr and then followed the Cynnant Fawr half a mile downstream to the house. This isn't the preferred way to reach Cynnant when there's a footpath leading right up to it. But it was a beautiful day and sometimes a longer walk makes the reward of such a property just that little bit extra special. Cynnant is, as it happens, a special place. Its isolation, its' well proportioned windows and fine outbuildings all leave the visitor with ideals of restoration and then setting up home.

This was once home. Around the rear, in the garden, metal fences protect trees from livestock and the outbuildings, all still in some agricultural use, are still in good condition. The house itself, albeit without windows and doors, appears structurally sound. This must have been an idyllic place to live. Once.

I wondered, as I walked away, just how many other great properties lay abandoned, sitting beside a rushing stream, south facing, isolated, complimentary to the landscape around, in the Cambrian Mountains that I've yet to discover. I imagine many. I walked back to my car quite content with my walk but also a little saddened by this ruin.
| | |
| --- | --- |
| | |
Comments
By Dilys James:
I lived there for 22 years with my mother and father two sisters and brother beautiful place to live
By alan richards:
Cynnant has been bought and renovated