MAESGLAS, Ceredigion 2010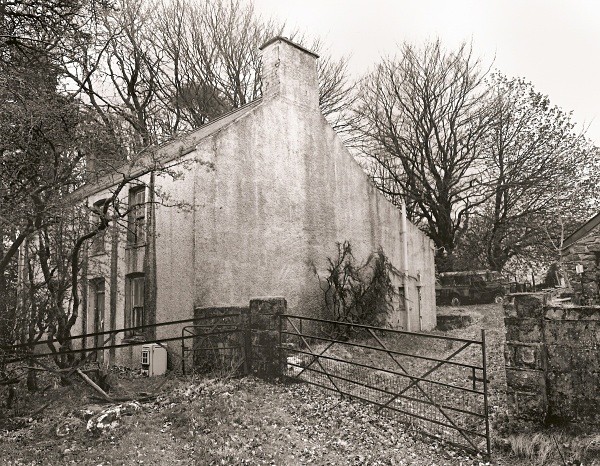 Notes on MAESGLAS, Ceredigion 2010

Nestled on a valley side and sheltered by mature hardwoods, Maesglas now stands empty. It has not been empty long but one feels it needs to be lived in soon, if it's to survive another harsh winter. Peering through the windows boxes of toys hint at the last owners life. The outbuildings look as if at some point they had been converted into living accomodation. It would be a shame if this house lays forgotten. True, it is set in a barren landscape. The winters are servere on the Cambrian Mountains. The summers however are subliminal.
Comments
By paul sweet:
Hi Paul, lovely pictures. can't believe why people would just get up and leave these places. do any coe up for sale or can you just claim squatters rights lol!! its a shame these lovely buildings go to ruin
By Peter Natt:
Maes Glas used to be my closest neighbour when I was the Easter and Summer warden of Tyncornel Youth Hostel in the 1960/1970's. I used to treck over there on a pony and they would give me a loaf of freshly made bread. It used to be a Pony Trecking Centre when I lived up there.
By Denise lomax:
I used to come to Maesglas every year from 1977 as an 11 year old to 1982 sometimes 4 times a year, pony trekking. I have fantastic memories of Pat, Mervyn and Sally and the amazing countryside we rode in. I returned about 4 years ago and was devastated to see Maesglas in such ruin. It was heartbreaking. What a fabulous place. Glad I saw it for real before these pics, I would never have believed it. I would love to give life back to Maesglas with family, horses, sheep, dogs, chickens and peacocks. This place was my dream home.
By Sandra Luff:
I also used ot go pony trekking there every year for about 3 in the 1970's - about the same time as Denise! Great place and very fond memories. So sorry to see it is in the state.
By Peter Natt:
Sadly Pat passed away last year (2014). She had been living in France.
By Lotti Rains:
I am another one who used to go Pony Treking there with my parents from the mid 70's to early 80's. I wonder if we met Denise and Sandra! I remember those days with great fondness. We were talking about the area last night after watching something on tele and I just had to look it up. Sad to see it if a ruin and sad to hear that Pat died last year! Happy memories!
By Ifan Evans:
FYI- rhosyrhiw has now been restored and is lived in. It was owned by my grandparents and we farm the land right around. It has never been and never was left to rot and fall down!!!!! And we also don't appreciate someone trespassing our land and posting pictures of a privately owned house online without any prior permission to do so. Please respect people's privacy and stop to think how you'd feel if someone did the same to a property you own!
By Peter Natt:
Is Rhosyrhiw the same as Maes Glas. If so well done for restoring it. Who lives there now? The pony I used to ride was Fairwell which was owned by Will Lewis of Blaen Dothea and then he moved to Prysg in Llandew Brefi. Sadly Will Lewis died some years ago.
By Gill Goodman:
I used to be pony trek guide with Pat, Brian and Sally in the 70's and later with Mervyn.Devastated to see Maesglas as a ruin, so many happy memories, especially the ponies and my boy Rowan who is long since deceased. Hope someone buys and restores , many brilliant memories of sitting in the kitchen eating Pats amazing cooking, fresh baked brown bread and home made yoghurt. Swimming in the river and riding over the hills to the dam and the haunted house! I remember Peter from the youth hostel on his pony too! Hope someone lives ther now and loves it as much as we did. Please let me know if so. Cheers Gill.
By oldskool:
has anyone got any pictures of maesglas back in the day? be interesting to see how it was back in the 1960's/70's
By Gabriel Hutchings:
I trek there at 12 an 13, '72 and '73, Second time Pat's husband ad left. Was at Ty'n Cornel hostel a couple of weeks ago on my bike I was going to peddle over but thought it might have been depressing. Having read this I'm glad I didn't. Was amazed to here that Pat stayed so long. Yes I was a great place for a child to Holiday.
By oldskool:
the maesglas house was sold in the 70's, and then again in the 80's and is owned seperately to the rest of the farm. i believe the original family still farm the rest of the land. thankfully they sold the house off when they moved out of it (as it was getting differcult keep transporting their sons to the school in tregaron) rather than leaving it to fall down like many other farmers (i know its been left for some years and is dilapidated but atleast its savable)
By Patlouiseclark:
Hi I'm looking for this haunted mansion in Aberystwyth Ceredigion but can't remember the name of it please can you help me thank u