MAES Y BEUDY, Ysbyty Ystwyth, Ceredigion 2011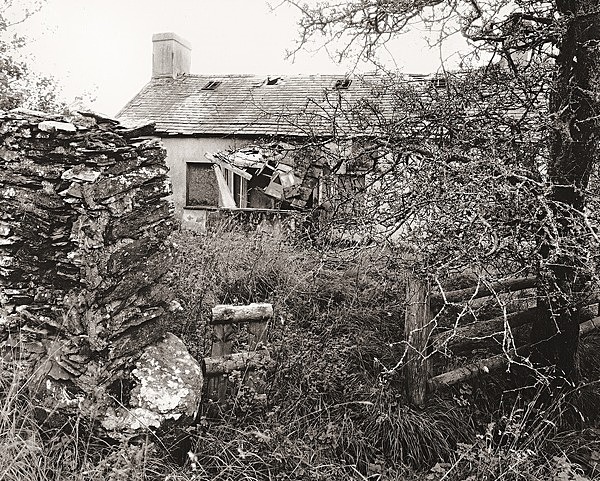 Notes on MAES Y BEUDY, Ysbyty Ystwyth, Ceredigion 2011

Walking along the stone lined path to Maes y beudy on this windy afternoon it becomes something other than another path to another ruin. The wind blows the trees in a slow motion, with the branches swaying in a harmonious union with the westerly wind.

The outside walls of Maes y beudy look unremarkable and modern but behind these rendered and grey walls there lays a small and lovely peasant longhouse – the windows are all irregular and the rooms within are small but strangely numerous!

Once the house and outbuildings explored I ventured around the rear of the property, a small orchard with rotting fruit, and an open window, large and no longer protecting the house and judging by the mess within has not protected this lovely little cottage for many a year.
Inside is a mess.

The house was obviously abandoned with its contents in place. A calendar with the date March 1983 lay in the living room. Was this when Maes y beudy was abandoned? Possibly.

The furniture inside is all stripped from its panelling, its drawers or chairs stripped from their coverings. A tiny, tiny kitchen filled with pots, pans and unrecognizable tins and slug eaten packaging. The upstairs filled with clothing, bundled into damp and rotting masses. The floorboards are beginning to rot due to small holes letting the water in through the roof. The fireplaces have been ripped out, books are strewn, carpets like sponge, mattresses soggy and a mould, dampness filling the rooms, the air, the walls and all their contents.

I tread with care, set the camera up and expose film. Long exposures of around 16 minutes allow me to unravel the nervousness of entering dangerous and empty properties. 16 minutes is long enough to alter ones opinion of a house. Maes y beudy is a lovely little property in a beautiful location with views of the church and hamlet of Ysbyty Ystwyth.
| | |
| --- | --- |
| | |
Comments
By Estelle:
The house is now under new ownership and is currently under renovation to become our family home.
By Alison:
This was the home of several generations of Lewis's - my forbears in 19th century. I have been meaning to visit for ages. While fascinating to see these pictures of the deserted house, good to hear it will be a family home again.
By John Lewis:
As with Alison, Maes y Beudy was home to my ancestors for generations, prior to their move to Cilfynydd and later the USA. My father and I have visited the ruins on several occasions and look forward to the possibility of seeing it restored.