GWYLFA HIRAETHOG, Denbigh Moors, Denbighshire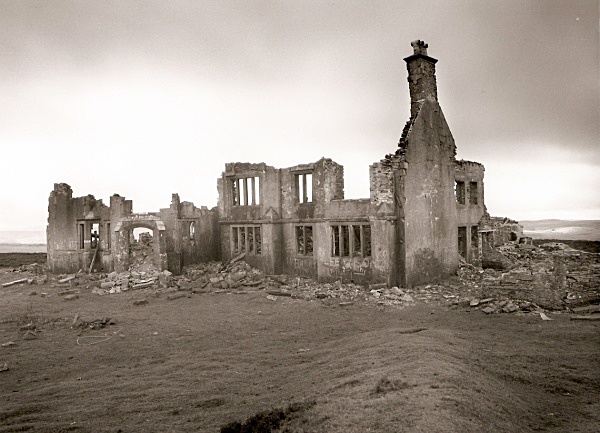 Notes on GWYLFA HIRAETHOG, Denbigh Moors, Denbighshire 1997
Abandoned in the 1950's, dramatic and openly isolated high on Denbigh Moors, Gwylfa Hiraethog can be spied whilst driving passed the Sportmans' Arms Inn.
The walk up to Gwylfa Hiraethog isn't a particularly long one but greets as it does a bleak and barren setting as ever I have come across. Approaching the house you begin to have some realisation of the reality of living in such a location. The November afternoon I visited, the wind blew hard and cold and I expect the wind has blown hard and cold every day and night since.
There were limited photographic possibilities other than the vandalized, sorrowful pile of rubble but there was also a small solitary tree – wind swept, short and twisted: the type a carpenter passes without kind acknowledgement. I read recently that even this windswept tree has fallen along with much of what you can see of the house in these images.
Gwylfa Hiraethog is said to have been the highest inhabited house in Wales and to have the widest views of any other house in Britain.
The former war Prime Minister Lloyd George addressed a large crowd here from the balcony just after it was built (1908 –11). It is easy to imagine this scene and presume Lloyd George had a voice equal or as great as the winds that blow across the moors.
A mobile phone mast now sits most un-appropriately beside the rendered stone walls. One has to smile.
Gwyfla Hiraethog 1997
Gwyfla Hiraethog 1997
Gwyfla Hiraethog 1997
Gwyfla Hiraethog 1997
Gwyfla Hiraethog 1997
Gwyfla Hiraethog 1997
Gwyfla Hiraethog 1997
Comments
By Clive Midgley:
Hi Paul Look on BBCiPlayer on BBC4 Hidden Histories at 7.30 (Today 26Jan) It shows photos of Gwlfa Hiraethog as it was, and how it is now Clive
By Corinne Fudge:
I grew up not far from here, and last saw the mansion in the mid-eighties. There is considerably less of it when these images were recorded in 1997 - wonder what it looks like now....
By david H:
have been up there many time from a boy aged about 4 0r 5 and in snow sun and rain and its tell me been the pub many times and when ever I go to north wales all ways goe there happy days there that were I learnt to ride a horse there to all the pony of the moors have gone to shame well times move on David H I am now 68 and still love the place I remember the area before the new res was built use to walk cycle there xxxx
By Shirley:
We used to pick winberries at Bryn Tryllyn and I only wish I had taken photos of the old shooting lodge. My father seemed to remember it being in use when he was a boy in the 1920s but I don't know when it finally closed. Last time we took a drive up there we couldn't find it - has it gone completely? (Former Denbigh resident now in Bucks)
By nancy:
these are showing such desolation but still you somehow captured the shadow of the granduer of the past
By Frank:
I was always fascinated by the sight of this ruin high on the moors when cutting across between Snowdonia and Denbigh on my return from trips to Wales from Manchester and thought it looked too big to be a ruined farm. Glad to have solved the mystery now. I wonder why it was abandoned after only 40 years?
By Carol Stoodley:
As a Liverpool resident until 1986 I loved driving around the area with my boyfriend. It was hauntingly beautiful at that time and had an amazing impact. The views eere breathtaking and the local Inn a delight. Happy Days. Xxx
By Menna:
My Nain (grandmother) was born and raised here. Here mother was the housekeeper.
By Stewart Tattersall:
When i was young in the 1950's the hunting lodge was still intact and seemed to dominate the landscape on the denbigh moors, wherever you were in the area you could see it on the highest piace of ground. my wife and i walked up to it on new years eve and it is still as shown in 1997. A great pity it has fallen into a ruin.
By shel:
Menna: do you have any pictures of your great grandmother up at the lodge my grandfather used to be the blacksmith up there, or so the story goes..