RUPERRA CASTLE, Caerphilly, Mid Glamorgan 2005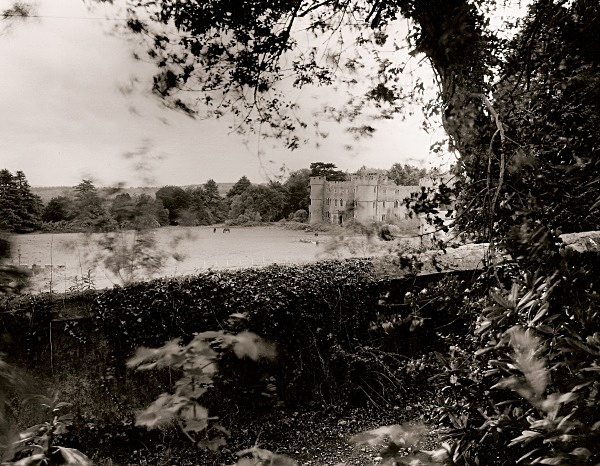 Notes on RUPERRA CASTLE, Caerphilly, Mid Glamorgan 2005
Ruperra was built by Sir Thomas Morgan in 1626 and likely on a former medieval site. Requisitioned, like many a stately home, by the army during the Second World War. In 1941 it was gutted by fire and in 1956 sold and since then there has been a slow and steady demise of the once rich estate. In 1982 the South Eastern tower collapsed and large cracks have appeared in the other three.
An awful waste and a compulsory purchase order would seem the obvious choice. Adjacent and within its walled borders are large service blocks, greenhouses and stables now all empty and neglected. A trust, formed in 1996, with the aim of purchasing the castle and grounds, own woodland around Ruperra with many walks offering the visitor various views of the castle.
I was unable to gain permission to enter the grounds, once in 1997 and again in 2005. Negotiations are underway to sell the house to the trust so in the longer term its survival seems more secure.
Ruperra Castle 2004
| | |
| --- | --- |
| | |
Comments
By Paul Cassemis:
Hi, I have some photographs internal and external if you'd like I could email them to you, Kind regards Paulcassemis@googlemail.com