BRYNKIR, Dolbenmaen, Caernarvonshire 2005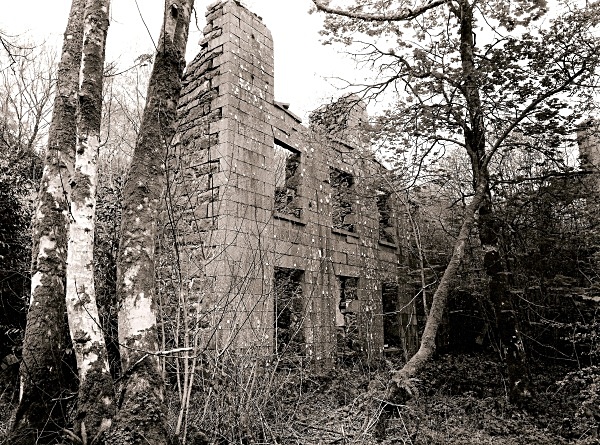 Notes on BRYNKIR, Dolbenmaen, Caernarvonshire 2005
Almost invisible under the ever-encroaching rhododendron, Brynkir was once a large mansion house, at its core 16th and 17th century.
From 1811 heirs onward were requested to build further ranges, thus when one wing became uninhabitable they would vacate and accommodate the newly built block – hence a messy mass of extensions and wings.
There is a fantastic photograph of Brynkir in Thomas Lloyds' 'Lost Houses of Wales' which gives you some indication of the mass and tangle of rooms. I'm afraid to say that much of what is shown in that photograph has gone but there are clues in the stonework that this was, to the unknown eye, a large country house.
Alas, it now stands damp, low-lying, crumbling and with but a few traces that ever a large house stood. Brambles snatch at your clothes and ferns sodden the foot and the dampness rises up the trouser leg. Water clings mercilessly to each plant and with each passing glance a body makes transports the water onto the traveller. This, somehow, adds to the experience of visiting old buildings and once home and dry, one can sit before a stove and recap with joy the days soggy outing!
A gothic tower, dated 1821 and six storeys high, stands in the grounds and has been restored into a holiday home from a shell.
Brynkir 2005