NANTEOS STABLES, Near Aberystwyth, Ceredigion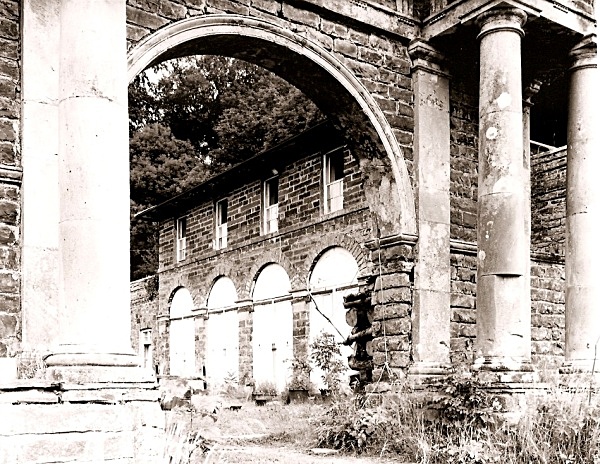 Notes on NANTEOS STABLES, Near Aberystwyth, Ceredigion 2009
I had visited Nanteos only once before, way back in 1984. The house then looked tired and since then it has been on the precipice of disrepair yet never truly abandoned or derelict. I have however driven and cycled on the valley opposite Nanteos which gives excellent views of the house. Even from such distances one could imagine tiny, searching tendrils were crawling between mortar and stone, finding purchase and slowly destroying the fabric and foundation of this great house.
This early July morning I approached Nanteos stables via the rear entrance at Moriah. I walked through the high walled (and massive) gardens, all overgrown and containing ruined greenhouses and other unrecognisable ruined buildings, towards the majestic stables. The sky had patches of cloud but once the sun broke through the morning was warm and stifling and the bright light glanced off the impressive façade.
I was joined, in my brief hour there, by tree fellers, ground staff clearing with strimmers, workmen on the roof of the house and finally a postman. A thriving community beside Nanteos mansion – cars and caravans – and to think I imagined to be alone!
The house itself is completely under the canopy of scaffolding and plastic sheeting. At last Nanteos appears to have an owner who is willing to maintain and care for this important house. Hopefully the stables too will have equal care, although considering their lack of maintenance over a great number of years they do not appear to be in such an awful state as one would imagine – perhaps judgement of the build quality.
Nanteos Stables 2009
Nanteos Stables 2009
Nanteos Stables 2009
Nanteos Stables 2009
STABLAU NANTEOS. Aberystwyth. Ceredigion 2009
Dim ond unwaith yroeddwn i wedi ymweld a Nanteos cyn hyn, ymhell yn ol yn 1984. Edrychai'r ty bryd hynny yn ddiflas ac ers hynny y mae wedi bod ar drothwy anobaith sawl gwaith, ond eto i gyd ni chefnwyd amo'n llwyr ac ni fu'n wir adfail. Rydw i, fodd bynnag, wedi gyrru a beicio drwy'r cwm sydd gyferbyn a Nanteos lie gellirgweld golygfeydd arbennig o'rty. Hyd yn oed o'rfath bellter, gellir dychmygu bod tendriliau main ymchwilgar yn ymwthio rhwng y morter a'r cerrig, gan raddol fwrw gwreiddiau a difetha deunyddiau a sylfeini'r ty arbennig hwn.
Mae'r ty ar hyn o bryd dan orchudd sgaffaldiau a Hen blastig. O'r diwedd ymddengys bod gan Nanteos berchennog sy'n fodlon cynnal a gofalu am y ty pwysig hwn. Gobeithio y bydd y stablau hefyd yn cael gofal tebyg, er o ystyried y diffyg gofal a gawsant dros nifer fawr o flynyddoedd ,nid yw'n ymddangos eu bod yn y fath gyflwr a fyddai rhywun yn ei ddychmygu - mae'n bosib fod hyn oherwydd ansawdd yr adeiladu.
| | |
| --- | --- |
| | |