MAESGWYNNE SERVICE QUARTERS, Llanboidy, Carmarthenshire 2001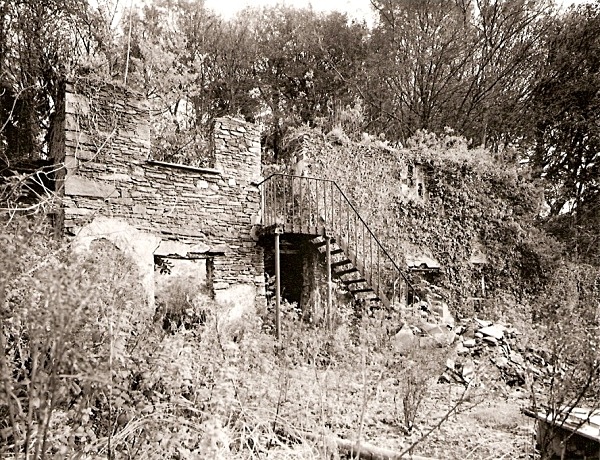 Notes on MAESGWYNNE SERVICE QUARTERS, Llanboidy, Carmarthenshire 2001
I parked my car and walked down the towards the house - large barns still stood and as i walked towards the house, dogs barked aggressively - as any dog whose territory is threatened - from the barns. I expected to be questioned why i was walking through but was not approached.
I had imagined how Maesgwynne would look. I knew it was derelict and had seen a small photograph in 'The Lost Houses of Wales'. I pictured a moderately large house, not dissimilar in size to Llanerchaeron near to Aberaeron, which would, in my imagination, would be roofless and all but obscured with roof-high foliage, brambles and nettles. Unfortunately I found various vehicles, diggers, caravans and a crater in the ground. I didn't want to believe that this crater was what was once a fine looking country house. But no amount of disbelieve can rebuild stone and mortar and Maesgwynne had indeed, unlisted, been demolished.
Last year I was kindly sent some images from someone who had visited Maesgwynne, and many of the other mansions I had also visited, when it still stood, derelict – although not covered in foliage as my reverie had conjured but show a roofless shell with a large porch entrance. The interior was a mass of stone and wood. There was something about Maesgwynne that fascinates. It's location and its modest size makes one feel that living at this sight would have been a pleasurable experience. The photograph here shows all that was left worth photographing, the service quarters(?).
Maesgynne Service Quarters (now demolished), house also demolished.
| | |
| --- | --- |
| | |
Comments
By brenda fenton:
My grandfather was born at Masegwynne forge in 1850,where his father was a blacksmith
By Rob Churchill:
Ref the Maesgwynne servants quarters you mention, this is far from demolished, it is now being restored and will be living accommodation. if you send me your email I will send you a photo. Rob.
By Diane Graham:
My great grandmother, Annie Sedger, was a servant at Maesgwynne Mansion around 1895. Does anyone know if there are any remaining records relating to the mansion, servants, function etc. I am working through my family tree and my great grandfather might have been a visitor or butler there at some point around 1895. Many thanks, if you can help.
By Cheryl Davies:
My great grandmother Susannah Jammes was listed as a washerwoman maid on a census living at Maesgwynne Upper Lodge she was 13 years old.
By Sue Creasy:
My great grandfather was a groom here in 1881 census, age 23. He was living at East Gate No 2, with his wife Emily. If you have any information on the house or the Powell family who lived there, please let me know. Thanks.
By denley owen:
My book POWELL MAESGWYNNE was published in 2012.-♡{