YNYSYMAENGWYN, Tywyn, Merioneth 2000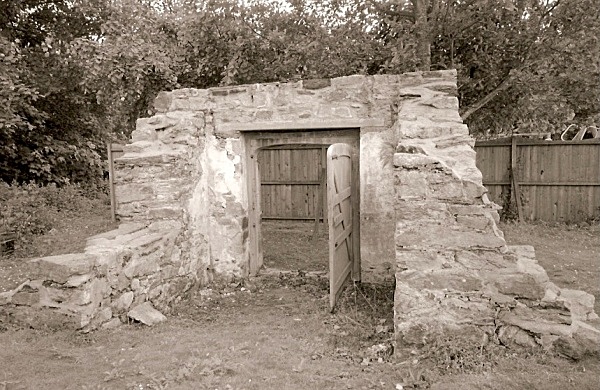 Notes on YNYSYMAENGWYN, Tywyn, Merioneth 2000
I believe this photograph shows part of the house and if so, unfortunately, all that remains.
Built in 1758 on a former site Ynysymaengwyn was once a fine country house with a renowned garden – a fantastic photograph can be seen on the front cover of the 1987 edition of Tom Lloyd's 'Lost Houses of Wales' and also within shows the rear side of the house (or is this the front?) and also an interior image of the fine dividing staircase.
The house was bequeathed to the town council in 1948 and then left empty and later on, in the 1960's used by the fire brigade for practice. It was demolished sometime 1960's, early 1970's (?). One may well wonder why the town council would leave such a fine house empty but during the war so many properties were used by the army and once they left owners could neither afford to run the upkeep of such large properties or find willing purchasers. This is a common history throughout the United Kingdom.
Today little remains that once this fine house stood. It was, and still is, a holiday camp; caravans and tents filled flat fields and corner pockets. There is however evidence of a long line of ruined buildings and I can only presume these were the service quarters as shown on the front cover of 'Lost Houses' or otherwise army buildings built in the second world war. I did not photograph these as they were completely over grown by brambles and bushes.
The most prominent part of the mansion site is the dovecote (built 1760) – seemingly simple in design it remains in an excellent condition and the walled garden, with footpaths wending within a wooded area – all very romantic. The current owners seem to care with what remains and have maintained and preserved those areas accordingly.
Below is a link to a page on Wikipedia which gives a brief history on the house:
http://en.wikipedia.org/wiki/Ynysymaengwyn
Just a quick note on the photographs – these were taken on a 35mm camera and it's not recommended that enlargements are made beyond the 12x10inch size.
| | |
| --- | --- |
| | |