BRONWYDD, Llangynllo, Ceredigion 1997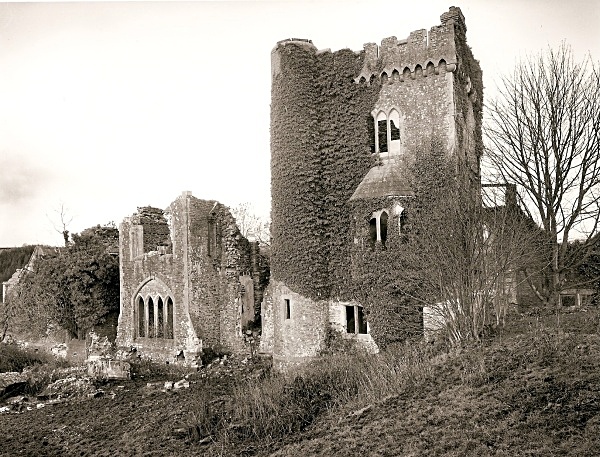 Notes on BRONWYDD, Llangynllo, Ceredigion 1997
A house stood on the site of Bronwydd in the 14th century and was re-built in the 1850's – mostly now a high pile of rubble; the stone carving, stained glass and mural paintings all long gone except a few Latin motto's over the Bath stone doorways. Most of its towers, having been vandalised, no longer survive.
As the farmer/owner showed me around, the cows stood watching in the field surrounding the high walls. The thick and deep mud underfoot, made the going slow and uneasy. Yet all these tiny details make the searching for a viewpoint which captures a house all the more rewarding.
The weather was changeable with the sun appearing and disappearing and I imagine some 10 years since my visit the cows have had a few calves and Bronwydd has lost more of its height and presence: a sad picture and a quickly vanishing one.
Bronwydd 1996
BRONWYDD. Llanqynllo. Ceredigion 1997 & 2009
Safai ty ar safle Bronwydd yn y bedwaredd ganrif ar ddeg ac fe gafodd ei ailadeiladu yn y 1850au - er nad oes dim yma heddiw ond twmpath o rwbel. Mae'r cerfiadau cerrig, y gwydr lliw a'r murluniau wedi hen ddiflannu heblaw am ychydig o arwyddeiriau Lladin uwchben y drysau o garreg Caerfaddon.. Dychwelais i Fronwydd fis Gorffennaf 2009. Prin yr oedd wedi newid. Mae eiddew'n gorchuddio'r twr ac mae'r rhan fwyaf o'r arysgrifau Lladin wedi dirywio a diflannu am byth.