FOXHALL NEWYDD, Henllan, Denbighshire 1997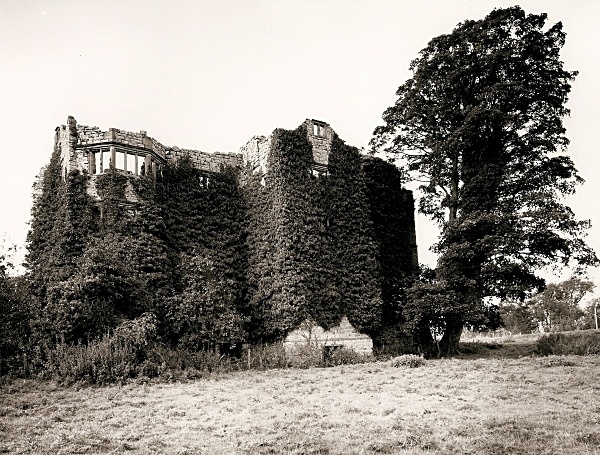 Notes on FOXHALL NEWYDD, Henllan, Denbighshire 1997

Foxhall Newydd was built circa 1592 (though a date of 1608 appears over one of the fireplaces) by John Panton of Denbigh, whose main ambition seemed to have been a desire to outshine the efforts put into the nearby hall of Old Foxhall.

However, he went bankrupt, ironically forcing him to sell what he had built to the Lloyds, whose home he had hoped to eclipse. New Foxhall was never completed and once Panton had removed the roof and all the fittings within, it has, for over 400 years, remained a shell.

The day I visited Foxhall was a bright but cloudy day and perhaps unlikely for a photographer, my preferred weather conditions. A bright sun can deepen shadows to black and bleach highlights to white.

Foxhall looks out of place. It sits, as it has for hundreds of years, and seemingly very slowly losing it's imposing height. Because it has been empty for so long it appears to lack any interest to the destructive eye of the vandal and with that solitary fact probably means it will remain in its present state for centuries to come.

The house that stands today was supposedly to be just one wing and was to form a giant H plan.
| | |
| --- | --- |
| | |
Comments
By Russ Kendrick:
Hi Paul, There are some stunning photo's here, well done. I am keen to try my hand at some of the more local ruins, but am having difficulty (as others I think) in getting the Google to locate the sites. Could you please give directions. I'm mainly looking at the denbigh area, although the Ceulan Mill in Talybont is really interesting. Keep up the great work.