DOLGORS, Ceredigion 2010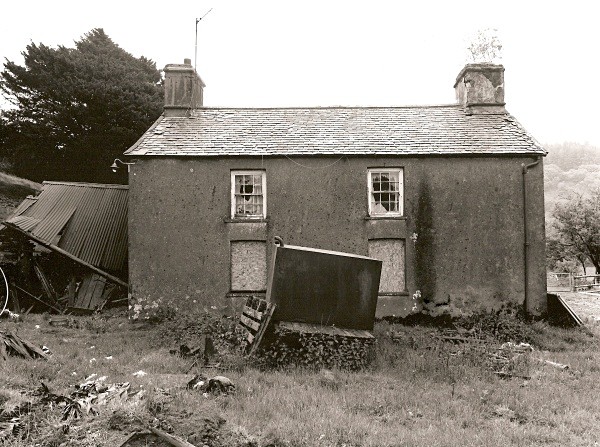 Notes on DOLGORS, Ceredigion 2010

A small lines of firs run along the muddy and short driveway up the farmstead of Dolgors. No longer can the house be reached by vehicle due to a large concrete barrier and large silo bags. I read in the local paper, The Cambrian News, last year that the copper had been ripped out of an empty property in Devil's Bridge by thieves. I immediately knew that Dolgor's, such a spectacular farm house, had been the victim.

The house is a large 'L' shape, rendered in a miserable grey and has large saplings growing from its chimney's. I am very fond of this farm house. It has a special atmosphere. A long line of calves, obviously enjoying each others company and exploring the adjacent field together, came to watch over me with their quizzical eyes. They were boisterous and playful but one step in their direction and they fled like a firework. They soon however returned. They watched as I stood beneath a large yew tree and set up my camera.

The false dawn was heavy and dim. The morning was grey and the night was reluctant to lift. Long exposures of 32 seconds were required but there was no breeze to cause a blur in the surrounding trees, indeed even the large and sunken silted puddles reflected perfect the grey scenes of the surrounding countryside.

All was quiet and grey and another day was beginning that would contribute to Dolgor's sorry decline.
| | |
| --- | --- |
| | |