COURT / CWRT, Llanychaer, Pembrokeshire 2010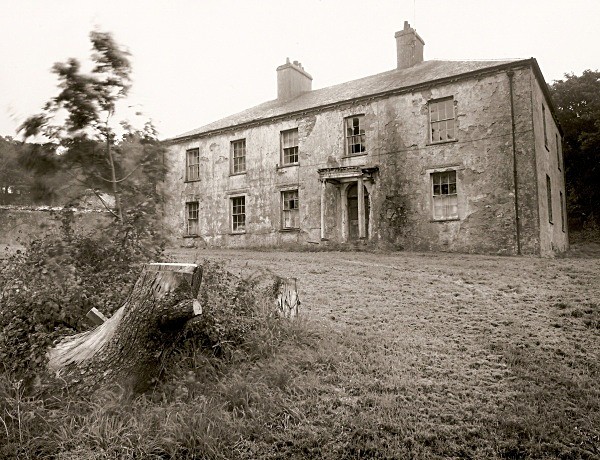 Notes on COURT / CWRT, Llanychaer, Pembrokeshire 2010

A remarkable visit. In most instances the mansions I visit are in such a poor state of disrepair that the very layout of the rooms and décor are impossible to determine. Not so at Court. I know not when Court became derelict but it has not fallen into disrepair like so many others, in the 1950's. Court has not suffered the 60 years of pilfering, or the yearly cycles of the battling elements forcing themselves behind plasterwork, between brick and mortar. The decay here hasn't quite reached a point where total dereliction would force demolition. It is however true that the roof above the main staircase has begun to let in the rain at an alarming rate. Huge holes have appeared in the ceiling, with large saplings growing and long strands of ivy falling down. This damp area of the house continues all the way down to the basement. It cuts like a knife through a cake.

Other rooms, most other rooms, although bare and with some damp, appear to be in a good dry condition. Unfortunately some of the plasterwork has begun to crumble, none as worse as the plaster frieze in the hallway just at the foot of the main staircase and therefore near the dampest areas of the house.

The driveway up to the house is no longer in use other than agricultural, and glimpses of the house can be snatched. Court's rendered façade is peeling and crumbling giving the house a sorrier look of disrepair than perhaps it deserves. Its an imposing house and its wooden portico has all but rotted and collapsed. Inside the house is spacious and although it does not have a large number of rooms, they are all a decent size with the kitchen at the hub of the house. There are the usual signs of dereliction within; old furniture, hearths full of bird nests, rusty kettles and boxes and baskets of knickknacks and ornaments, an empty but dust lined enamelled bath.

Also on the site is a walled garden and many outbuildings, mostly renovated although an impressive slate clad barn remains in a derelict state. Photographing Court was a very pleasant experience. Some of the interior images required, since I never use flash photography for the black and white images, exposure times of 16 minutes whilst some of the exterior shots, due to the dimness of the morning also requiring exposure times of between 1 – 8 minutes causing some blurriness of foliage that blew in the wind.

A farm stood at this site long before the mansion was built in 1800.
| | |
| --- | --- |
| | |