RHOS,Ceredigion 2010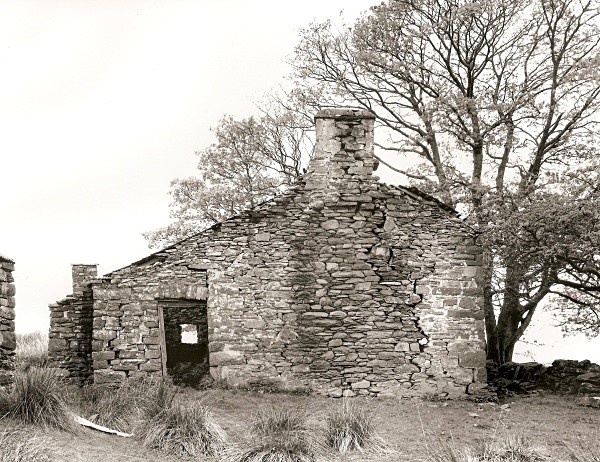 Notes on RHOS, Ceredigion 2010

Again thus named after the stream and forest it stands beside. A small farm holding with outbuildings – all ruinous – and although the house still has slates on its roof the overall structure is fighting a losing battle against the elements. A huge crack, in some places three inches wide, can be seen running from the entire height of the front and side of the house. The roof is fragile and wavers like an abandoned cobweb. Inside two dead sheep lay, one on its back with it legs pointing skyward (always a strange sight) and the ground floor itself was at least two feet deep solid with sheep droppings, half flooding the walls and doors. A small front enclosure with a low wall and fruit trees gives the property some privacy and shelter from the wind. Alas, this south facing house will be nothing more than a pile of stone in a few years time.

Originally called Rhos this property had a name change to Ty Newydd. It was then again changed to Rhos. (thanks to Mair Morgan for this information).
| | |
| --- | --- |
| | |
Comments
By Gwenda Peacock.:
MY ancesters lived in Rhos changed to ty NEWYDD and back yo Rhos.They were my father Davio John Evans and also his parents and great and great grandparents .
By gwen peacock:
sorry i meant david and back to rhos.
By Gwen Peacock.:
I Would be very greatful if anyone has more information on Rhos or Ty Newydd to get in touch with me as my mum and dad lived there for a few months after they got married.
By Adam Evans-Lee:
Hi Gwen, I think we're related! My Great-Great-Great Grandfather Evan Evans (1776-1844) lived here with his wife Elizabeth and their children, whom I believe your David is one of their children. They're both buried at St. Gwnnws church. I'm hoping to visit this ruin this year.