TAN-Y-RALLT, Llangeitho, Ceredigion 2014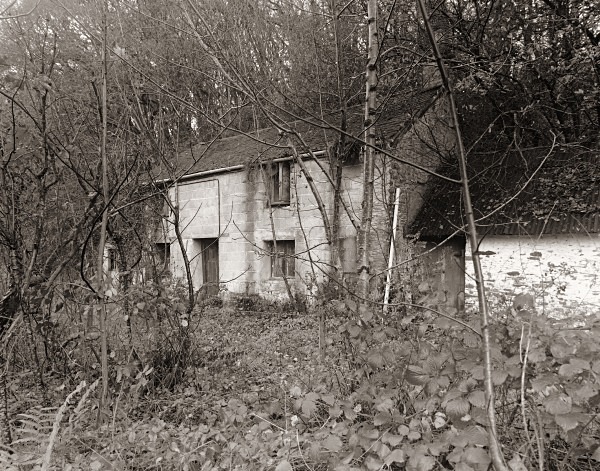 Notes on TAN-Y-RALLT, Llangeitho, Ceredigion 2014

A nice surprise - I drive along the road from Llangeitho to Talsarn quite often and saw this footpath leading up to the hills. A quick internet search on Ceredigion town planning showed a house with no other access than this path. Before work one morning I decided to go and visit. Half a mile from the road this house stood, on first inspection made of concrete blocks but quickly I realise that this was a modernisation - probably undertook some time in the 1980's. The rest of the outside shows stone and brick and I wondered if the cement blocks were put up in place of cob/mud(?).
Inside is damp and dark and water ran through the back of the house and out the front door - the mud covered the tiled hall floor. The small pantry/kitchen still had many food jars untouched - I checked a brown sauce bottle - best before 1991 - was this when the house was deserted?
Making exposures was difficult - the foliage before the house seemed impenetrable but after wrestling with some thick and long and quite resilient bramble branches I managed to get the camera set up for two exposures (as seen here). There was little else to photograph - maybe come back on a winter's day when more view should open up. Small ty bach stands in a dip in front of the house - outbuildings no longer in use and filled with junk.
| | |
| --- | --- |
| | |
Comments
By Jennifer Jones:
My grandparents use to live here in the 1950 s. I remember staying with them when I was very little.They kept hens as Mamgu use to sell the eggs. I think they had one cow. The house was cosy as it had a big fireplace. There were two bedrooms. I slept on a little bed in my grandparents bedroom. To get to the other bedroom you had to go through theirs. My Aunts use to come home from Aberystwyth and that bedroom was theirs . They had a hutch by the main road where they kept wellingtons or old shoes to change into before walking along the long lane home. It was a peaceful place looking towards the woods which led to Bwlchllan where they had lived in Blaencastell farm. I remember Aunty Williams and Aunty Bet who lived near by. We were not related but I called them Aunties. I will have to re visit and perhaps recall more memories.
By Terry Downes:
This place is actually known as Tanralltwen, it was inhabited till the late 80's , Roy and Beryll used to live there, Roy was a tanker driver for the MMB and used to collect our milk. A lovely little holding with 2 or 3 small fields in the narrow valley in front of the house now all sadly neglected. I believe it is owned by a small estate who also have Brechfa farm up the hill behind there again the house is unoccupied and in a perilous state